7 Ways to Avoid Divorce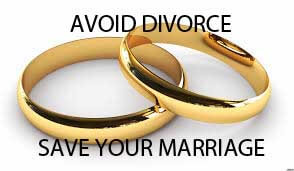 If you're looking to get or stay married and need tips on how to avoid divorce, here are seven ways to help you and your partner stay together, and live in happiness.
WORK ON YOU, RATHER ON YOUR PARTNER
The easiest way to start a fight with your partner is by pointing out flaws that irritate you. The easiest way to avoid conflict is by doing the opposite. Living by this rule of thumb will prove to help with the longevity of a marriage, and couple will find it easier to avoid divorce.
Rather than pointing out the flaws of your partner, work on the issues that cause you to notice these "flaws" in your mate.
The most effective tool in a healthy marriage is the ability to communicate with your partner. The art of communication requires both speaking and listening skills. It's important to remain objective when listening to your spouse, and honest when speaking.
Take the time each day to share with your partner. When couples communicate, and can speak without fear of judgment, trust is established. This trust is instrumental in strengthening relationships.
ESTABLISH HEALTHY SEX LIFE
Sexual relations between married couples are the foundation of intimacy that secures a bond between two people. Actively participating in, and ensuring your marriage maintains a healthy sex life is important to the overall health of your marriage. Men and women use sex to gratify different needs, and each is important.
Don't use sex as a tool to manipulate or punish your partner. Keep a good balance between responsibilities and sexual intimacy and build a more solid marriage.
MAKE TIME FOR OCCASIONAL GETAWAYS
Make time for occasional getaway vacations from all the stress and pressure life may be causing. Save for small trips that include romantic activities and adventures. Nurture the relationship by reminiscing about the excitement of the beginning. If spending money is a problem, think of ways to get away for the day free or for little expense.
Take the time to remember how important quality time together is, and how this time helps couples avoid divorce.
BUILD A FOUNDATION OF FRIENDSHIP
Make sure the person you marry is a friend first. Build a foundation of friendship prior to marriage and you'll undoubtedly have an easier marriage. Friends tend to have more things in common, easier times with communication, and trust each other. These are critical elements in all marriages.
Don't stop building the friendship after the marriage. Continue to learn and grow with your partner, and remain understanding.
CREATE A WIN-WIN ATTITUDE AND BEHAVIOR
The greatest gift you can give your spouse is a compromise. There will be many times when your wants conflict with the wants or needs of your spouse. During these times, it's critical to carefully assess each situation and work together to create a win-win situation for both.
Make a point to carefully compromise on things that do not leave you resenting your partner.
Life will always be filled with ups and downs that sometimes add stress. The blissfulness of love may sometimes be overshadowed with stressful situations. Remember these times are the times when loving unconditionally matter the most. There will be many times when your partner hurts your feelings, irritates you, or forgets to notice you. During hard times, it's important to remember the person you fell in love with. Loving a person unconditionally means just that; love no matter what.
If your partner gains weight, changes style, picks up a new hobby, or does anything out of their normal routine, continue to love unconditionally. No rules. Just loves.
There are many ways to avoid divorce. The trick to being successful in marriage is being aligned in making sure you avoid divorce. By working on things right from the beginning, couples have a better chance at success, and less risk of crumbling. Do your part to work with your spouse, and avoid divorce.
Please visit spiral2grow author, Moshe Ratson at his Google+ Profile: +Moshe Ratson